See more posts by Joyce Griffith
1.

The fruit of the spirit.
 Are you often encouraged in your Christian life by the gifts of the Holy Spirit? Which of the gifts bring to mind most vividly the blessings of being deeply involved with God as a Christian? What about love, joy, peace, patience, kindness, goodness, faithfulness, gentleness, self-control? What would your life be like if you possessed an abundance of all of these blessings?
2.

The condition of fruitfulness.
How do we abide in Jesus so that we can receive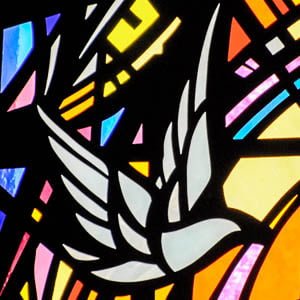 Christian fruit? There is a typo in the lesson guide that says "Jesus tells us tell us…" How can that typo help us understand the importance of listening to Jesus as we seek the fruit of the spirit? We often pray to live our lives in Jesus. Should we also pray for Jesus to live out His life within us? Why? What does God give us that enables us to bear fruit for Him? Is it possible to live an apparently perfect life and yet be lacking in the grace and power of the Holy Spirit? How can we be sure, very sure, that we are one in Him and blessed by the Holy Spirit?
3.

The fruit of love.
 Is love truly the greatest virtue of all? How does a Christian who wants to be fully surrendered to God obtain the love he or she needs for living as God's servant in this world? What are some of the traits that Christian love has in the consecrated life? What chapter in the Bible is the capstone in describing Christian love? Have you ever memorized this chapter? A secret to memorizing passages of Scripture is to read the passage forty times. Try it! Do you live or work with people who are hard to love? What is the best way to deal with these people? Have you developed with the support of God a personality and character that reveals to others a deep and powerful relationship of love? How can this take place?
4.

Joy, peace, patience.
 What does the apostle Paul have to say in Romans
14:17
about how love and joy are related? Then there is peace. What is the relationship of the Holy Spirit to the peace we have in our hearts? Then there's patience. Are you naturally a patient person? How often do you feel the marvelous blessings of joy, peace, and patience? How often does your heart throb with the blessing of joy, peace, or patience? What can you do so that these blessings come into your heart even more often than at present for you to share with others? How does peace with God reflect deep and lasting joy in our hearts?
5. Kindness, goodness, faithfulness. What happens deep in your heart when you see a child perform an act of kindness to another child, an older person, or a pet? Does it seem to you that children readily connect with opportunities to be kind? Share an example of kindness you've observed this week. Then there's goodness. Can you really hope to be totally good? How can you obtain the gift of goodness? What about faithfulness? Are you known to be a faithful person in your work? In what ways did Jesus reflect His faithfulness while on this earth? Can the Holy Spirit gift us with faithfulness? How?
6. Gentleness and self-control. Some people seem determined never to show gentleness. They want to come across as tough and hard-hitting. What about you? Do you admire the qualities of gentleness in others? Share an example of how you have been blessed by the gentle acts of someone else–or how you have been able to display gentleness to another person. Are you totally satisfied with yourself when it comes to self-control? Or are there habits or ways of doing things that you know are wrong for you? Self-control can involve not only diet but also every other aspect of living. Can the Holy Spirit guide us in a way that will build walls of self-control for our protection and spiritual development?
Amen!

(

0

)
The post 7. The Holy Spirit and the Fruit of the Spirit – Discussion Starters appeared first on Sabbath School Net.

Source: Daily Sabbath School Lessons