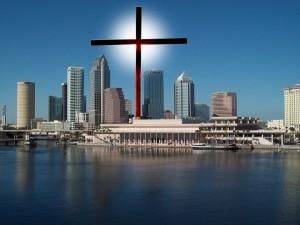 Several years ago, when I first became a literature evangelist, I was attending an awards banquet for the best sales persons in the Southwest. I was awe struck by the nice shiny plaques and trophies the winners were receiving for leading the region in sales, hours worked, and other categories. I was so impressed that I decided right then and there that I was going to be Number One next year so that I could receive such a reward at the next awards banquet.
The next year I went out and worked from early morning until as late at night as I could. After all, if I couldn't lead the region in sales, I could at least lead in hours worked by just working all the time. Sure enough by the end of the year I had led my region in hours worked and in sales! I could not wait to receive that award I had been fantasizing about all year! Only one problem: Due to finances there was no awards banquet that year. Nothing for me! No recognition! I was angry and upset. I had been slighted. I felt insulted by my leaders.
Soon after that, I was on my way to an appointment to show the Christian books to a family in Grove Oklahoma. As I was driving down an old dirt road, I ran across an old historic church and a very old cemetery next to it. Being the history buff that I am, I decided to take a few minutes and look around. It was interesting! Many of the people had died in the 1800's. I saw many graves for children and little babies. One family had lost four babies over the course of a few years, and I was amazed at the faith of this family as they had a Scripture promise engraved on each grave marker.
As I was contemplating the suffering this family must have endured, it dawned on me that many of these people had died at ages a lot younger than I was. Soon I was contemplating the fact that I had outlived many of these people and, of course, was the only one alive right now. Soon a voice inside my mind started asking me the questions, "Why have you outlived these people, and why are you alive right now?" As I pondered the suffering and heartache of the families represented in the cemetery and in the world today, it hit me like a bolt of lightning! I am not alive today to win trophies and awards. Those trophies cannot heal broken hearts, they cannot forgive sins and they cannot give people hope for tomorrow. Suddenly I realized how selfish and silly I had been. I decided to minister to save people's souls and give them hope and not to win awards. I then realized the meaning of the words in an old classic hymn, "When my trophies at last I lay down, I will cling to the old rugged cross." I realized my trophies were my works, what I had earned. Of course nothing that I had earned, could ever heal a broken heart, forgive a single sin, or save my soul, let alone someone else's!
Finally, the regional director felt sorry for me and sent me a very nice plaque. Several years after that, I was asked to have a vespers service for a church youth group camp-out. I asked them to have a bonfire going as I gave my talk. I showed the kids my nice shiny plaque and let them admire it as I talked about how hard I had worked for it. Then I told them how that plaque could do nothing to save me or anyone else. I then took the trophy and threw it into the fire. As the trophy melted in the fire and the kids looked at me with shocked expressions, I told them that "My trophies I lay down, and now cling to the old rugged cross." I don't need the trophy, I need the cross, for it can accomplish so much more for a hurting, dying world! Now, instead of being motivated by awards and trophies to save souls, I am motivated by the cross of Christ. "The love of Christ constrains me."
I told you about my trophy. Now what about yours? Are you holding onto a trophy in your life today? Ask yourself if that trophy can heal a broken heart, or forgive sins, or give people hope. I encourage you to lay down your trophy and join me, as we all cling to the old rugged cross. Never again do I want to live to draw people's attention to my trophies. I am alive today for one reason and one reason only—to draw people's attention to the Cross of Christ.
Why are you alive today?
Amen!

(

6

)
3 comment(s) for this post:
Tyler Cluthe:

02 Aug 2012
Actually the real start is, "without faith it is impossible to please Him, for he who comes to God must believe that He is, and that He is a rewarder of those who diligently seek Him" (Heb 11:6 NKJV). The idea that what we do has a bearing on our salvation is a subtle philosophical dead end. All of our works are too tainted with sin to do us any good in commending us to God (Isa 64:6). We do what we do because of what He has already done for us. In other words, our good works are our response to our salvation. Therefore we are saved solely on the basis of a free gift where God declares us righteous (justification) and then sends us His spirit to work in us in order to bring our lives into conformity with God's laws (the process of sanctification)

To Seventh-day Adventists I think the last part of Heb 11:6 is perhaps the most important for it is through His promises that we obtain all the power to do the good works. The new covenant is the promise, "For this is the covenant that I will make with the house of Israel after those days, says the LORD: I will put My laws in their mind and write them on their hearts; and I will be their God, and they shall be My people" (Heb 8:10 NKJV). It basically is the promise of the indwelling of the Holy Spirit and is the only way we are sanctified and can do anything right (2 Pet 1:2-4).

William Earnhardt:

06 Aug 2012
Ugh! Rafael, I am glad you have survived. Looks like you had a wake up call a lot more dramatic than the one I described in my post. Thank God for these moments that remind us what life is really all about.
William Earnhardt:

08 Aug 2012
You are in my prayers Lomot. I know God has many blessings in store for you.

Source: Daily Sabbath School Lessons