1. 
Christ the Creator.
 What a horrible life would have been ours if we had been witnesses to arguing and fighting by Christ at the birth of this world? Instead of looking forward to an eternity of peace and joy, isn't it true that we would see nothing but pain and agony? Instead, we have the words of the most peace-loving Individual in all creation. Who made the earth? Who designed the patterns that beautify birds, butterflies, fish and so much more? Explain how God created wonderful things and then how man turned to their worship. How did it happen that God made creatures by His hand and then watched many of them turn into fierce and horrible creatures? Do you see beautiful, helpful creatures in nature today? Is part of our role as Christ's helpers to protect innocent creatures from harsh circumstances?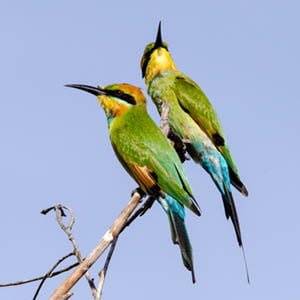 2. Son of God, Son of Man. Do you understand how Jesus could be fully God and fully human? "Two mysteries for the price of one," comments J. I. Packer in his book, Knowing God. What are those two mysteries? Do you agree that Satan uses the power of materialism to tempt us human beings into drawing away from the goodness of God and His grace? How does he do that? For six thousand years, has Satan busied himself devising clever means to pull us away from Jesus? What does he (Satan) want God's chosen people to do compared to what God's will is for His people? What made the rich young ruler blind to the never-ending blessing God was offering him? 
3. Christ, the Redeemer.  "Humanity became debtors to divine justice," our lesson author comments. Will the debt that results from our sins against God and our fellow human beings continue unpaid throughout eternity? If not, how will this horrible debt be paid? Or have we already been redeemed from the penalty of our great sins?  "It is finished," Jesus declared in His final words on the cruel cross where He died. His suffering was full and complete. He gave all. And how do you and I choose to acknowledge His great love for us and show by what we say, what we do, and even what we think, that we are part of Christ's work of salvation in this world.
4. A Jealous God.  Do you think of "jealousy" as a selfish and sinful thought process? What is righteous and holy about the kind of jealousy that God wraps around Himself as He calls us to Him? Think of some of the ways you know that God is different from all other individuals and beings. What is holy and pure about the traits of God that draw us to live our lives within Him? Do you ever try to "figure out" how God made or designed something in this world? David the psalmist exclaims that there is simply no one like God or any works like His (Ps 86:8), and in Isaiah 55:8,9 the prophet reminds us that our thoughts are lower than the heavens. Far lower. 
5. God owns it all. The materialistic mindset that dominates so much of our world today leans on us to take care of our possessions, to treat them with pride, and always to buy the best. What's wrong with thinking like that? "God, not us, owns everything," says that person of old, Job. He knew better than most the value of his earthly possessions, even his children, and what it's like to lose everything. Have you seen grief on the faces of those who have lost loved ones or homes in recent disasters? If you were caught in a tragedy, could you worship God and give Him praise even if you lost everything?   
Amen!

(

0

)

Source: Daily Sabbath School Lessons