I'm going to take the long way around today in discussing the topic of this week's study, "God or Mammon." I know I could have gotten there quicker by starting with the Widow with two mites and the Rich Young Ruler. Those two stories are packed with much insight into our relationship with money.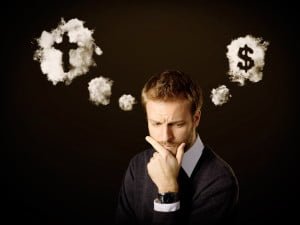 Instead of using those two usual examples I thought I would take you to a quiet beach to explore this topic. Here we find seven fishermen and Jesus sitting around a fire enjoying a simple meal together.  Nothing fancy – just freshly caught fish and good conversation.
In the midst of their fellowship Jesus turned and addressed Peter.
"Simon, son of Jonas, lovest thou me more than these? He saith unto him, Yea, Lord; thou knowest that I love thee. He saith unto him, Feed my lambs.

He saith to him again the second time, Simon, son of Jonas, lovest thou me? He saith unto him, Yea, Lord; thou knowest that I love thee. He saith unto him, Feed my sheep.

He saith unto him the third time, Simon, son of Jonas, lovest thou me? Peter was grieved because he said unto him the third time, Lovest thou me? And he said unto him, Lord, thou knowest all things; thou knowest that I love thee. Jesus saith unto him, Feed my sheep." John 21:15-17
This exchange took place shortly after Jesus' cruel crucifixion and glorious resurrection when He appeared to seven of His disciples as they were out fishing together.
Simon, son of Jonas, aka Peter, had gone through what no doubt was the most incredible three-plus years of his life. A religious man with deep passions and a touch of impulsiveness, Peter had the great fortune of being a part of the inner circle of Christ's disciples.
He was there when Jesus gave sight to the blind, hearing to the deaf and speech to the speechless. He was there when death, more than once, was reversed. DEATH WAS REVERSED! He was there when the "aha" moments of a thousand lifetimes of revelations were shared on the Mount of Blessings. He was there when thousands were fed from a simple brown bag lunch. Peter saw it all.
Peter was also there as Jesus was constantly being targeted by the religious rulers and their surrogates. He saw Jesus as He put to shame the spiritually proud while He elevated the humble and downtrodden. He saw the eyes of hatred in those who wanted Jesus killed and out of the way of their unquenchable desire for power and glory.
Sadly for Peter, he was also there at the Court of Caiaphas where the prophetic words of Jesus came to pass.
"Assuredly, I say to you that today, even this night, before the rooster crows twice, you will deny Me three times." Mark 14:30
That was the height of betrayal of this once proud disciple. It was also the depth of shame to one who expected to be a ruler in the kingdom he anticipated Jesus to launch on Earth.
This is the backdrop to the piercing questions Jesus asked his beloved disciple as they sat around that small fire. Jesus asked him no questions about his beliefs. There were no discussions about his skill sets, strengths, and potential evangelistic abilities. Jesus did not ask him about his understanding of the doctrines the early church was to be built upon. No, instead He asked him the question that is at the root of the matter – not only for Peter but for each one of us as well; Simon, son of Jonas, lovest thou me?
Living the Christian life includes faithfulness in our use of money. Our generosity to those less fortunate should be as much a part of our identity as our seventh-day Sabbath observance. Supporting the evangelistic efforts of our church through tithes and free-will offerings so that others can share in the Good News is only a part of living the Christian life.
Beyond our faithfulness in doing there is a greater truth; the truth about love that motivates us, drives us and compels us. Paul poetically put it this way:
"Though I speak with the tongues of men and of angels, but have not love, I have become sounding brass or a clanging cymbal. And though I have the gift of prophecy, and understand all mysteries and all knowledge, and though I have all faith, so that I could remove mountains, but have not love, I am nothing. And though I bestow all my goods to feed the poor, and though I give my body to be burned, but have not love, it profits me nothing." I Corinthians 13:1-3
What it takes for each of us to experience a level of love where nothing, absolutely nothing is held back, is a process that we all must experience individually. It's a part of the Christian journey that continues each day and gets better as the days go by. God will see us through.
"Being confident of this very thing, that he which hath begun a good work in you will perform it until the day of Jesus Christ" Philippians 1:6
Until next week, let's all continue to Hit the Mark in Sabbath School!
Amen!

(

0

)

Source: Daily Sabbath School Lessons